Classic Plus Maxi
For openings up to 5.5 meters wide.
This our most popular door. This requires 300mm headroom and is made from 78x20mm foam filled 2 slats to suit openings up to 5500mm wide 6.5kg/m.

The Maxi door requires headroom which is not always available. To accommodate this Birkdale have designed the Midi and Mini door.

These doors still share many of the features of a Maxi door and allow installation into smaller spaces.


MAXI ROLLER DOOR - SUITABLE FOR WIDE OPENINGS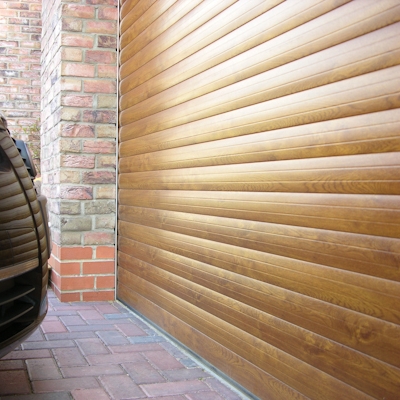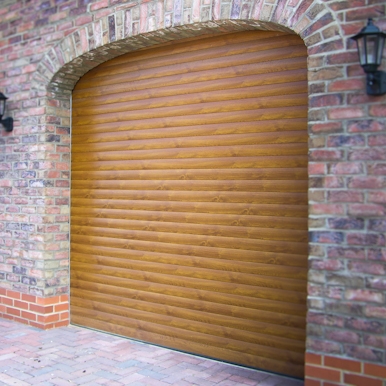 Warranties Included:
15 Years
Warranty on laminate
Our laminated finish is longer lasting than a powdercoated finish and looks fantastic too.
7 Years
Warranty on motor
Powered by high quality tube motor with manual override and a 7 year warranty. The motors are supplied exclusively for us by Jolly Motors.
5 Years
Warranty on Door Monitor
System
Gives you all round safety. Compare this with a safety edge which protects only the leading edge of the door.
Main Advantages
Laminate Finish
Our finish is longer lasting than a powder coated finish. The transparent outer layer protects the colour and is designed to withstand the variations of the European climate. Our laminated finishes are backed by a 15 year warranty.
Aluminium
Our roller doors are made from aluminum meaning ours will not rust and look more attractive than steel. Plus it is a lot less bulky than steel.
Insulation
Excelsior Maxi roller door is thermally insulated. The thermal insulation can help to keep the garage warm. This is ideal for integral garages or garages with bedrooms above. Reducing CO2.
Space saving
Being able to park close to the door, plus it rolling up above the garage door, it gains extra storage space inside your garage and in many cases extra drive through space.
Fixing Method
Excelsior roller door can be fitted internally or externally face fixed or in between the aperture. A full box is required for external fittings.
Noise Reduction
The Excelsior Maxi has an impressive 20mm thick curtain which acts as a sound barrier.
Standard Features
Fitting
Garage door will be delivered and installed by our experianced team. The old door will be removed and disposed.
Battery Backup
With the Battery Backup never worry about power failure again, no pulling on awkward cables to release the door or winding a crank handle. Just carry on using it as normal and wait for power to return.
Full Box
Full box can help prevent accidental finger entrapment. It also finishes the roller shutter off nicely. This comes in the white finish but can be powder coated in any other colour as an optional extra to match your door.
Alarm
In conjunction with the DMS , the alarm will sound when an attempt is made to manually lift the roller door.
Door Monitor System
This device fastens onto the door and senses when an obstruction is made. Unlike other systems this monitors the whole door and stop for any obstruction unlike other systems which only monitor the bottom of the door. It is wireless and easy to use.
3 function spring system
The 3 function spring helps to reduce the workload on the motor. It helps to give a smoother door operation and helps to provide a built in anti drop device.
Autolock
The Excelsior Maxi has a built in auto lock, so when the door is closed a spring clamp device holds the door down tight.
Keypad
The keypad gains you access without the need to carry hand transmitters.
Feeding rollers
The four sets of curtain feeding rollers helps to ensure an easy and smooth operation.
Courtesy Light
The courtesy light will give you a few minutes of light when and after the door is operating. A separate control unit includes an integrated light and a push button for convenient door opening.
Extra Options
Hood Lock
A lockable cover for externally fitted roller doors to secure the manual override.
Through Wall Drive
To be used in the event of power failure a lockable through wall drive, for garages with no other entrance.
Colour Matching Box
Add powder coating or laminated colour to your box for it to match your door.
Colour Matching Fascia
Add powder coating or laminated colour to your fascia for it to match your door.
Colour Matching Guides
You can also colour match your guides using laminated or powder coated colour.
Extra 4 channel remote
A 4 channel remote will enable you to operate up to two garage doors from one handset.
Finger Print Scanner
Open your garage door without any keys or access cards, with just the used of your fingertips using our fingerprint scanner. The user always has an unmistakable access authorisation.
COLOURS
Laminated Finish
Certificates
CE Mark
Our roller doors are CE marked to BS EN 13241-1:2003 and security tested to the equivalent of prEN1630. The principle European standard relevant to domestic garage doors identifies all the critical health and safety consideration within the design and manufacture of the product. This gives resellers, users and consumers the necessary reassurance that they are purchasing a safe and reliable product.
ISO:14001
Our products are manufactured under an ISO:14001 environment management system assuring you that we monitor and reduce our carbon footprint wherever possible.
ISO:9001
Our products are manufactured under an ISO:9001 Quality management system, assuring you that your door is monitored from start to finish. We are very proud of our product. Our every door is checked and photographed proving final inspection is carried out before it leaves our factory.